Posted 03.10.2012
Update May 27, 2016
I've revised this piece into something that I can sell! If you're interested in purchasing, there's a white version and a black version available.
Recently, Lydia and I had the opportunity to do some interior design work for our new Vice President at LifeWay.
This office, not part of the executive suite, is meant to make him more accessible, providing a comfortable atmosphere for all day meetings. (I know, I just put "comfortable" and "all day meetings" in the same sentence.)
When Lydia and I were doing visual research, I stumbled upon this image.
I knew I wanted to do something similar in this space. I started trying to come up with phrases, I wanted to use biblical phrases (this is after all a Christian company), but not cliche. I also knew that some of our compapny's most important decisions would (potentially) be made in this room. Therefore, I wanted "Be Strong and Courageous" to be the most prominent element.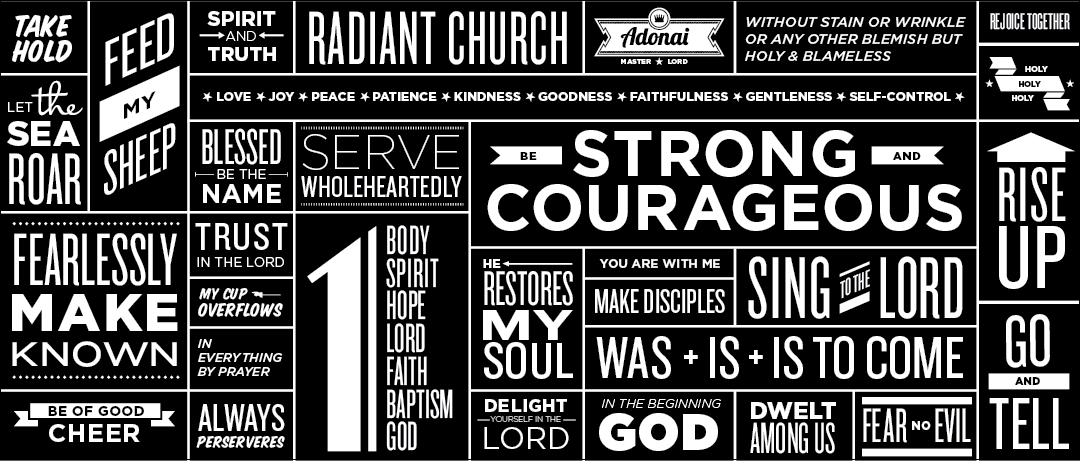 Originally, I took the art to Kinkos to be printed on their 3′ wide draft paper. However, my piece had too much black and the printer started streaking. Unacceptable. I tried inverting the artwork, which definitely had an Esquire feel.
It works but, it wasn't best.
In the end, we printed the banners in house on a thicker paper. The end result was much more along the lines of what we were looking for.
The total piece is 20′ x 7.5′